Brazoria Criminal Lawyer Amber Spurlock
Amber Spurlock, recently nominated as a "Rising Star" by Super Lawyers®, is a battle-tested & highly experienced criminal defense lawyer with a number of years as a federal prosecutor in her background, as a result of her capacity as a Captain in the U.S. Air Force from 2008-2011.
Education & Credentials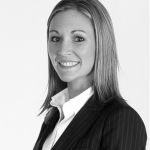 Amber Spurlock started her entry into lawyering when she graduated from the South Texas College of Law in 2007 resulting in her earning her Juris Doctor. She is currently continuing her education in the realm of forensic toxicology in her current study at the University of Florida.
A distance learning that she's allowed to take part in remotely from Texas; the Law Offices of Tad Nelson & Associates has applauded her taking part in the course, as the step was taken as an attempt to sharpen the edge of the firm in cases where a scientific review of the evidence is called for, as is often the case.
Attorney Amber Spurlock is also a graduate of Southwest Texas State University, and Stephen F. Austin State University.
Litigation Experience
As a United States Prosecutor
During her capacity as a Captain in the United States Air Force, she served as a JAG Officer, and as a Special Assistant United States Attorney where she prosecuted people who committed crimes on the military installation. She has also worked with military intelligence to prosecute persons charged with crimes, or terrorist affiliations during the Iraq conflict in the Middle East.
As a Defense Lawyer
Since returning to the Southeast, Texas, or the Greater Houston region, as a criminal defense attorney, Amber Spurlock has successfully & consistently carried out her role as a lead attorney with the Law Offices of Tad Nelson & Associates. She has defended hundreds of people who have been accused of a number of crimes such as extortion, cocaine possession, drunk driving, and murder, and continues her education in her field of study; criminal law.
Brazoria Criminal Lawyer Amber Spurlock