About Attorney Tad Nelson
Attorney Tad A. Nelson is a born and raised Texan who has dedicated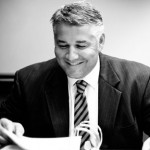 his professional and personal life to being the best & most proficient criminal defense lawyer he can be.
After 5 years as a prosecutor working out the Galveston County District Attorney's Office, he set out on his own, as an independent defense lawyer, with a main objective of learning all the tangibles & intangibles of criminal law, and becoming a better student of prudent criminal defense strategy.
Credentials
25+ years later, Tad Nelson is a renown criminal law specialist, founder of the Law Offices of Tad Nelson & Associates, and holds the credentials listed below.
Board Certified® in Criminal Law (Texas Board of Legal Specialization®)
ACS/CHAL Lawyer-Scientist (American Chemical Society®)
Super Lawyers® 2015 Selection
Founding Member of the DUI Defense Lawyers Association®
Member of the National College of DUI Defense®
Education
Shortly after finishing high school in Galveston, Tad Nelson moved to Austin where he attended the University of Texas. Afterwards, he went on to attend the Thomas M. Cooley Law School in 1991 where he earned his Doctorate of Jurisprudence. Once he earned J.D., he passed the Texas Bar Exam, and earned his license to practice law in the state of Texas.
A Full Service Criminal Law Attorney
Regardless of what crime you've been accused of committing, the Law Offices of Tad Nelson & Associates is ready to stand by your side, craft a solid litigation strategy for your defense, and work with you on an affordable payment plan if the situation demands it.
We defend individuals who have been accused of a full range of criminal offenses from capital murder cases on down to simple assaults, and first defense DWI charges. If you have a serious charge, or what may be seen as a minor charge (no criminal charges are minor), the Law Offices of Tad Nelson & Associates is ready to assist you. Contact us immediately for assistance at 409-765-5614 or by calling 281-280-0100.
About Tad Nelson